Math Academy ® holds weekly H2 Maths Tuition classes for JC 1 and JC 2. Class size is kept at a maximum of 8 per slot. Classes are for students taking H2 Mathematics in JC.
Learn the concepts.
Master the Topic.
Online (Live) MasterClass @ Math Academy
Learning continues online (choice of both Live or pre-Recorded lessons)  at Math Academy. Attain topical mastery in preparation for the exams.
Hear from our Alumni
THANK YOU sir for the immense help and for answering all my questions without fail. I really appreciate it ahaha.

U have actually cultivated a greater interest in maths for me and is probably one of the best teachers I have encountered.

Vasanth – ACJC 2019
Before attending Math Academy, my math grades had always hovered around D-E as I could never fully grasp the concepts taught in school. However, the comprehensive notes provided and patient guidance by Mr Ang allowed me to better understand the concepts and I managed to improve tremendously within a very short period of time. More than just the weekly lessons, the availability to consult online was of great help too as it allowed me to clarify the doubts I had in school and in my assignments.

Celeste Lee – National JC 2019
Mr Ang is an extremely dedicated and patient tutor. His notes and worksheets are very concise and contain a huge range of examples that proved very useful for me for my revision. Moreover, the practices we were given exposed me to a wide range of questions and helped me immensely in tackling questions during exams.

Ashley Lee – Eunoia JC 2019
It was very helpful how the lesson teaches the topic step by step, and how it highlights the common problems. Tutorials with similar questions and detailed solution was useful as it trains me through practice. Now I am more confident and comfortable with the topics covered.

Risako – Pioneer JC 2015
I did not know what it meant to love what you do until I witness Mr Ian Ang's undying energy and zest when he conducts his Mathematics lessons. He has paved his way into every detail and possibility of exam questions, allowing me to realise that every question merely revolves around the formulas and steps he has taught us.

Hsien Li – River Valley High School 2017
Mr Ang's notes are not only well organised but also in-depth. His summary notes also serve as useful tools to help us with our last minute recaps before our examinations.

Johnson Koh – Hwa Chong Institution 2015
The summary notes given have helped me a lot as all the formulas and different types of questions you "must know" are written out clearly! Mr Ang is also extremely patient and never fails to answer my doubts during class.

Chieng Hui Xin – ACJC 2016
I joined Math Academy in J2 after the June Holidays. Although it may seem "too late" for most students, don't fret! The small class size and detailed explanations (lessons, fully worked solutions and exam notes) make it super easy for many to focus.

Yu Jun – Nanyang JC 2016
He is patient and very approachable and has better equipped us with the proper concepts. This has improved my foundation in Mathematics and I saw drastic improvements for myself.

Ce Wen – Anderson JC 2015
His replies are always v prompt and even though it is hard to communicate through the phone, he is extremely patient with me and makes sure that I understand the rationale behind my every step. With his help, I have managed to consistently understand concepts, work smart and develop an interest in mathematics.

Foo Hsien Weng – National JC 2015
Not only did they give us ample practice questions and class tests to ensure that we are on track, they also gave us notes which are concise and easy to understand.

Regine Toh – Saint Andrew's JC  2017
I was a U-grader when I first joined math academy. Through your throughly planned out and clearly explained lessons, I was able to make visibly great improvement. Thank you for also being patient, caring and constantly asking how's students progress in school throughout the year.

Joel Leong – Jurong JC  2017
He also provides us with shortcut methods and summarised notes which really helped when I revised for my major exams. Thank you Mr Ang and Math Academy for the 5 years of guidance. I would not have gotten my A without your help!

Sharmaine Toh – Raffles Institution 2015
To view more testimonials, click here.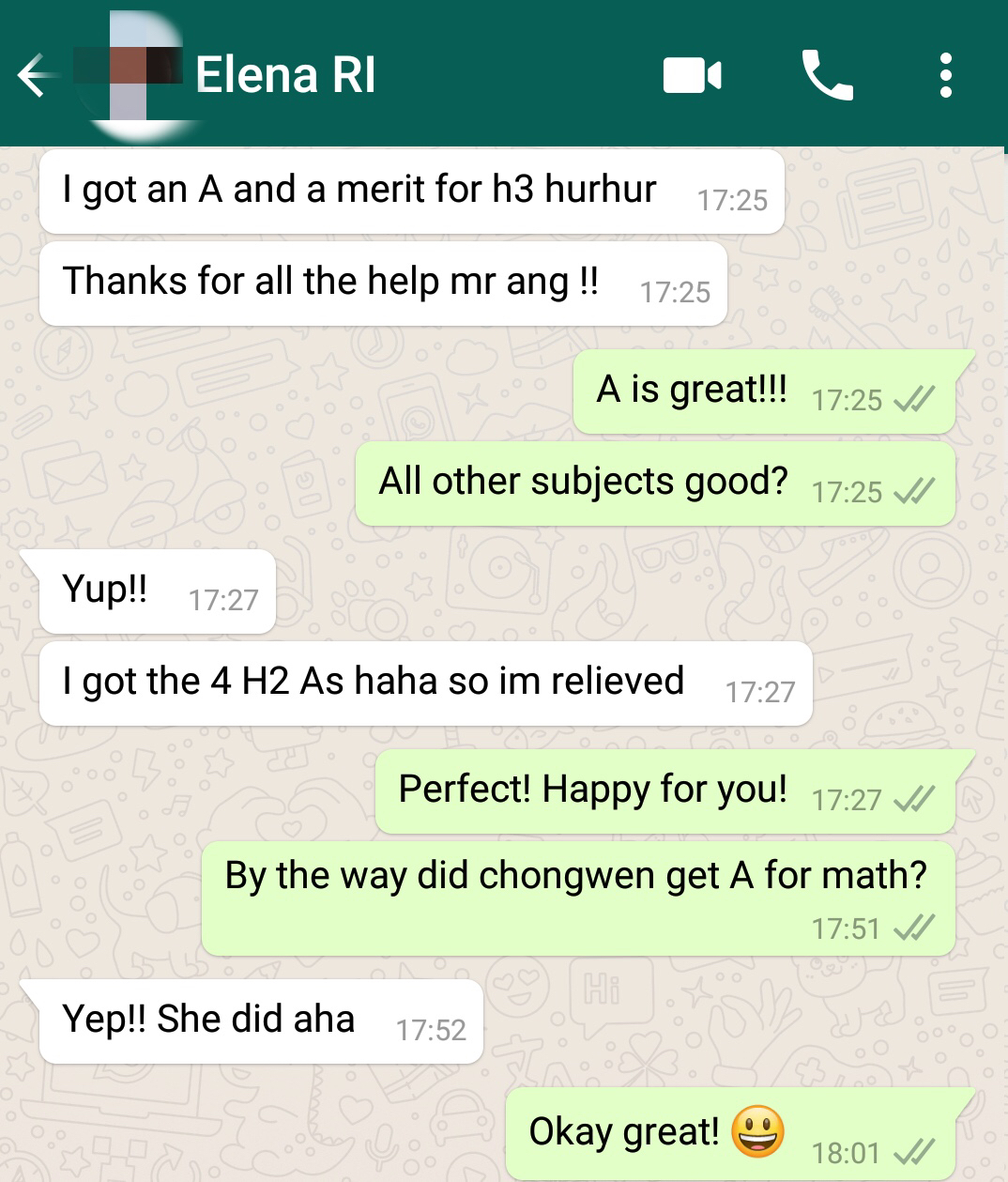 Top Tutor Mr

Ian Ang
Graduated from NUS, Major in Pure Mathematics
First class honours (top 5% of cohort)
Dean's list recipient
Excellent academic records at O and A levels
'A' for both Mathematics and Further Mathematics at A levels
Perfect raw score of 6 points at O levels
10 years of teaching experience, leading and curating teaching materials at Math Academy
Concise and Precise Notes
With a perfect and successful math education, leading to Mr Ian Ang's first class honours in Pure Mathematics at NUS, Mr Ang knows exactly what is required to prepare for mathematics examinations. He has painstakingly summarized and broken down each chapter into bite-sized chunks, for easy reference during examination preparation.
Math Tricks and Techniques
Have you ever felt like mathematics is always different for every question? Do you always not know how to start the question? Which equation do I apply? And you wished that there is someone there to guide you and show you the way to all question types?
This is precisely how Mr Ian Ang conducts his lessons. The examination techniques and tricks are summarized across a variety of questions, instilling confidence into the students that "there is just this much, it has been covered in class". All possible exam question types are summarized, allowing students to realize that every question merely revolves around the formulas and steps that he has taught the students.
Mr Ian Ang will provide an overview of all question types, before drilling into details on how to solve them. Whilst building up the students' mathematical foundation is important, a students' confidence and morale will be further boosted.
Class Size: Small
Our JC H2 math tuition classes will only take in a maximum of 8 students.  This will ensure that we can provide sufficient attention to every student, to clarify all their doubts, and ensure that they understand the mathematical concepts and techniques.
Examination-styled Tutorial
Weekly tutorial questions have been carefully chosen with the following considerations:
To reflect the myriad of questions that appears in exams
To drill students with questions from past year school prelim exams
Fully-worked out Solutions
Model answers are printed and given to students for all tutorial problems. This helps students to understand the solutions better even after the tuition has ended.
Marking of Mock Tests
Mr Ian will select questions with important learning values and give these questions during tests. This will be done closer to the A level exams, to drill students on the important question types as well as to check on their presentation. This assures students on their style of presentation and prevents them from losing unnecessary marks.
Weekly

JC Math Tuition
In 2019, we have students from the following schools:
National JC
Hwa Chong Instituition
Jurong Pioneer JC
Raffles Institution
Anglo-Chinese JC
Nanyang JC
Anderson Serangoon JC
Yishun Innova JC
Eunoia JC
Saint Andrew's JC
River Valley High
What can you
expect

from the class?

Classes are 2 hours long.

In the first half of the lesson, Mr Ian Ang will be teaching the topic, using his own set of copyrighted quality notes. No pre-learning from school is required.
These notes are a culmination of years of efforts, summarizing the key concepts and examination questions, presented in a concise manner.

In the second half of the lesson, students will be provided with carefully sourced tutorial questions, relevant to the teachings of that lesson.
These questions reflect the trend of examination questions in recent years, handpicked from schools' examination papers.
Students are expected to complete them before the next lesson.
Mr Ang will clarify their doubts and provide the students with a set of fully-worked out solution.

Sample of our notes, topical summary and outlines can be found at Math Academy Materials
Starting
Early
JC1 classes will start in the first week January every year. This is to provide students with headstart to the JC syllabus, to allow them to gain exposure earlier and to adapt well to JC life. Our experience tells us that students find the transition to A levels Math tough, largely due to a different and faster teaching style, with lectures and tutorials. Our students have found this headstart to be beneficial. GCE O level results are usually released by mid Jan.
For the latest time slots and schedule, click here to visit the timetable page.
H2 Pure Mathematics
1. Binomial Theorem
2. Inequalities
3. APGP
4. Graphing Techniques
5. Sigma Notation
6. Method of Difference
7. Functions
8. Recurrence Relation
9. System of Linear Equations
10. Differentation
11. Differentiation Applications
12. Integration
13. Integration Applications
14. Differential Equation
15. Maclaurin's Series
16. Vectors
17. Complex Numbers
H2 Math (Statistics)
1. Permutation and Combination
2. Probability
3. Discrete Random Variable
4. Binomial Distribution
5. Normal Distribution
6. Central Limit Theorem
7. Hypothesis Testing
8. Correlation and Regression